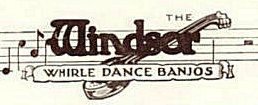 Windsor
| | | | |
| --- | --- | --- | --- |
| The Whirl | Honolulu | My Long Scale | |
First a quick note and its a general one; not just for Windsors - If you see a small British made banjo instrument with 8 strings it is a Banjo Mandolin not a Banjolele


ALWAYS



Arthur Octavius Windsor started out making coffin "furniture", but in the 1890's he started making Banjos as well and this business took over from the coffins. He is one of the people who is given credit for inventing the Zither Banjo, (he was certainly responsible for inventing the hidden channel in the neck of a 5 string banjo to enable it to go up to the headstock).

The factory closed in 1940 when it was destroyed by German bombing but during its existence it produced a great many banjos of all types including Banjoleles. Their most famous and commonly seen brand the The Whirle and they used this name on all of the Banjos not just the Banjoleles, though they did brand a number of different models of Banjolele with this. Other Brand names they used include Honolulu, Popular and Melody Banjo, (though this was an early name used on crossover Banjolins) and there may have been more. On top of their own brands they did OEM too, most famously for JeTeL but for others too.

Though most famous as a Banjo Maker they were also a musical instrument distributor, supplying Juan Gomez Ukuleles amongst other things and I have seen a 1928 catalogue for Windsor that includes a Tiple, 5 standard and 2 long scale Ukuleles (at this time long scale usually meant a larger scales like a Concert or a Tenor), I'm also not sure if they were making them or just rebranding them, the description for the "De Luxe" says it is "Genuine Hawaiian", but as they are also offering a repair service I think they probably did make some. Also where they are selling the Hohner Ukulele pitch pipes they say they are Hohners. That said of course my Windsor Long Scale is clearly a German made rebrand? I have also seen a Honolulu Ukulele but only pictures and I'm not sure if that was English made either?
---
Please contact me if you have any information or pictures that would improve the page
---
contact Web Administrator if you think your copyright has been infringed